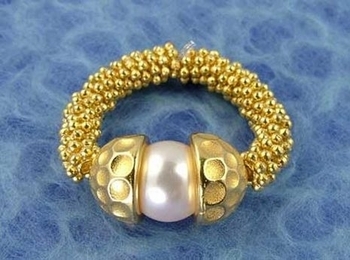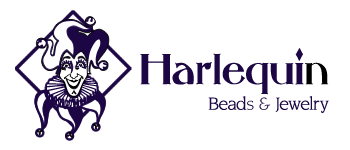 Chunky Bling Ring
by Nome May
Adorning our wrists, necks, and ears with beads has always been popular, but designing original and bold beaded finger jewelry is only now becoming popular. We are excited to introduce our first beaded ring kit. They are big and bold and instantly gratifying, and we bet you'll want to make them for your friends as well. We have included a few extra spacers if you would like to make a larger ring. Our ring is a size 7.
40 Gold finish 5mm pewter daisy spacers
2 Gold finish pewter pounded bead caps
6 inches of .7mm Stretch Magic
1 Swarovski 8mm light creamrose crystal pearl
Instructions
step 1
Tape the end of your elastic, so your bead do not slide off. String seventeen 4mm daisy spacers, one bead cap, one 8mm Swarovski light creamrose pearl, one bead cap, and seventeen daisy spacers on to the elastic.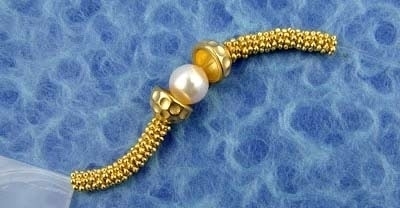 step 2
Tie a square knot and put a dab of fingernail polish on the knot.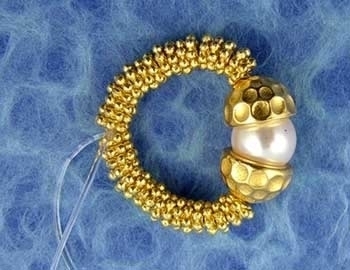 Materials List
| | |
| --- | --- |
| | 58108LTCMRO Swarovski Pearl Beads 8mm round pearl (5810) light creamrose pearlescent |
| | 93-0421-25 Metal Beads 5mm daisy spacer gold finish lead free pewter |
| | 94-5735-25 lead free pewter 9 x 5.5mm hammered bead cap gold finish |
| | SM05CL25 .5mm round clear Stretch Magic |
Recommended Tools
| | |
| --- | --- |
| | SC4 chinese craft scissor 4 inch |