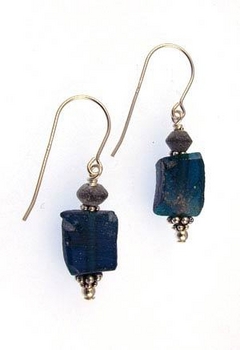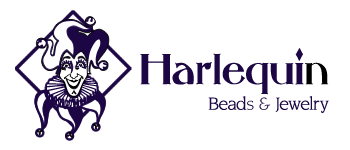 Ancient Modern Earrings
by Michele Rose
Wear a piece of history. Almost two thousand year old fragments of colorful glass from the Roman period are the centerpiece of this earring kit. To highlight the beauty of these magnificent beads we added a few antique silver finish spacer beads and a simple earwire. This Roman glass earring kit combines the mystery of ancient times with the beauty of adornment. Each set of beads are unique in shape and color so expect the glass shapes and sizes to vary slightly from the pair pictured.
2 rectangular Roman glass beads
2 Roman glass bicones
4 antique silver finish 3mm daisy spacers
2 antique silver finish 5mm daisy spacers
2 sterling silver seamless 2mm round beads
2 sterling silver 2 inch medium headpins
2 sterling silver shepherd hook earwires
No longer available for purchase.
Instructions
step 1
Slide one 2mm sterling silver round bead, one 3mm daisy spacer, one 5mm daisy spacer, one Roman Glass rectangle, one 3mm daisy spacer and one Roman Glass bicone on to a headpin. With a simple wire twist close the loop. Repeat for the second earring.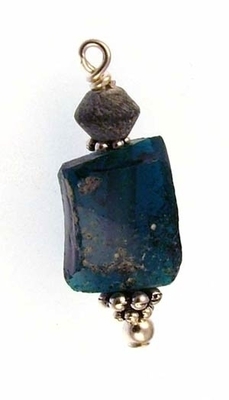 step 2
Open the shepherd hook loop to the side, slip the earring on and close the loop. Repeat for the second earring.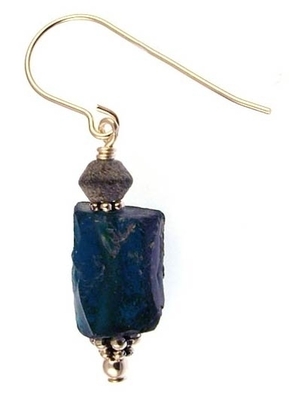 Materials List
| | |
| --- | --- |
| | 500-4620 Metal Beads 2mm smooth seamless round sterling silver |
| | 500-5385 sterling silver 2 inch headpin, medium, 22g headpin silver |
| | 93-0418-12 Metal Beads 3mm daisy spacer antique silver lead free pewter |
| | 93-0421-12 Metal Beads 5mm daisy spacer antique silver lead free pewter |
Recommended Tools
| | |
| --- | --- |
| | T009 economy round nose plier 4.5 inch black |
| | T010 chain nose plier 4.5 inch black |