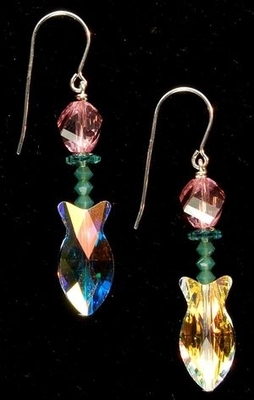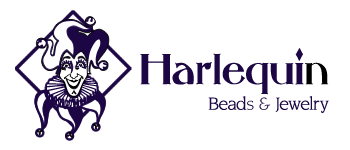 Crystal Fish Spring Flower Earrings
by Swarovski Crystallized Elements
We loved the Swarovski fish bead when they came in and are thrilled to offer the Swarovski designed Rosebud Earring kit featuring the fish bead as the vase.

The 8mm crystal Helix bead makes a perfect rosebud ready to bloom into your designs. This earring kit requires basic wire twisting skills and can be completed in four simple steps.
2 2-inch medium sterling silver headpins
2 sterling silver shepherd hooks
2 Swarovski Crystal fish beads
2 Swarovski Crystal 8mm helix beads
2 Swarovski Crystal 6mm daisy beads
6 Swarovski Crystal 3mm bicones
Instructions
step 1
Slide one crystal fish, three 3mm crystal bicones, one crystal daisy and one 8mm crystal helix beads on to the headpin. Repeat for the second earring.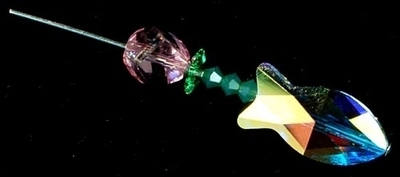 step 2
Close the loop with a simple wire twist. Repeat for the second earring.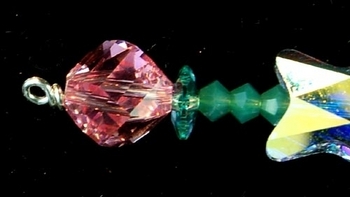 step 3
Open the Shepherd Hook loop to the side, slip the earring on and close the loop. Repeat for the second earring.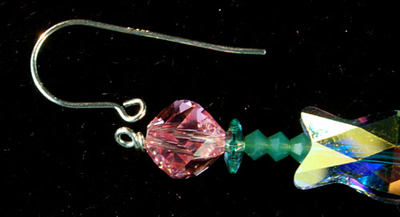 Materials List
Recommended Tools
| | |
| --- | --- |
| | T009 economy round nose plier 4.5 inch black |
| | T010 chain nose plier 4.5 inch black |