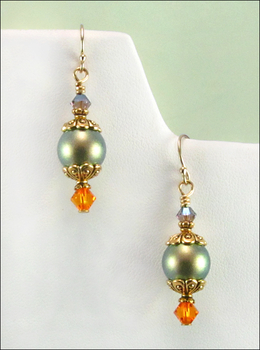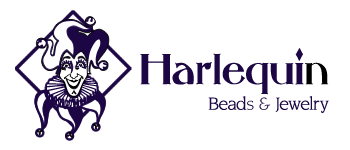 Carnival Carousel Earrings
by Megan Piper
Dazzle and delight in the colorful mood of the carnival with this earring kit, which was inspired by the showy detail of a glorious carousel. Rich gold findings highlight the bold tone of Swarovski tangerine and pizazz of the crystal iridescent green. The shimmery crystal iridescent green pearls catch an array of colors cast by light.

These prized earrings hang a perfect 1 1/8" from the earwires.
2 Swarovski 5mm tangerine bicones
2 Swarovski 4mm crystal iridescent green bicones
2 Swarovski 10mm crystal iridescent green pearls
4 TierraCast 4mm scalloped bead caps in antique gold
4 TierraCast 8mm oasis bead caps in antique gold
2 base metal 2 inch medium headpins in gold color
2 14k goldfill Bali style earwires
No longer available for purchase.
Instructions
step 1
Slide one 5mm tangerine bicone, one small scalloped bead cap, one large oasis bead cap, one pearl, one large bead cap, one small scalloped bead cap and one 4mm crystal iridescent green bicone on to a headpin.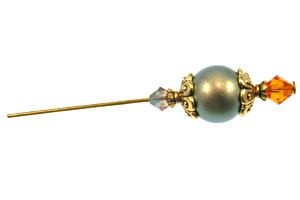 step 2
With a simple wire twist, form a closed loop at the top of the stacked beads.
Watch our
wire twisted loop video
for a how-to demonstration by our beading expert.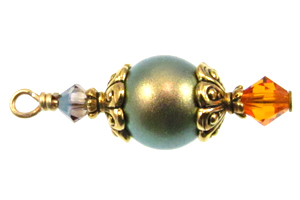 step 3
Attach the earwire to the twisted wire loop.
Repeat all steps for the second earring and enjoy.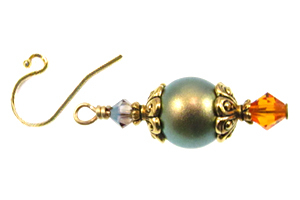 Materials List
| | |
| --- | --- |
| | 400-6418 14k goldfill Bali style earwire gold |
| | 94-5596-26 lead free pewter 4mm scalloped bead cap antique gold |
| | 94-5625-26 lead free pewter 8mm oasis bead cap antique gold |
| | 581010IRGR Swarovski Pearl Beads 10mm round pearl (5810) iridescent green pearlescent |
| | 53285TANG Swarovski Crystal Beads 5mm bicone 5328 tangerine (orange) transparent |
| | 53284CRYIRGR Swarovski Crystal Beads 4mm bicone 5328 crystal iridescent green transparent with finish |
Recommended Tools
| | |
| --- | --- |
| | PL611 super fine side cutter 4.5 inch |
| | T009 economy round nose plier 4.5 inch black |
| | T010 chain nose plier 4.5 inch black |