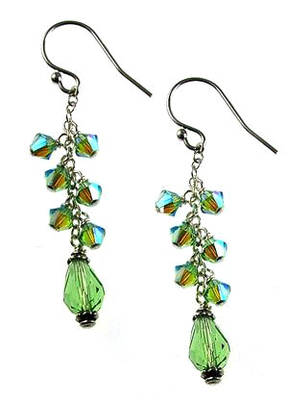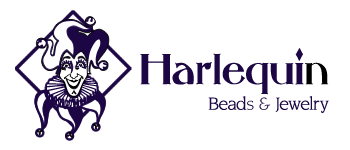 Cascading Swarovski Peridot Earrings
by Michele Rose
Created with Swarovski crystal beads and sterling silver components, these earrings are festive and fun. The use of chain in the design creates never-ending motion and extra sparkle. Peridot is the birthstone color for August, so these are perfect earrings for August birthday gifts. We encourage you to try this design with other color combinations.
2 Swarovski peridot 9x6mm teardrop beads
12 Swarovski peridot AB2X 4mm bicone beads
4 antique silver finish 4mm bead caps
14 sterling silver 1.5 inch thin headpins
2 sterling silver shepherd hook with ball earwires
2 inches of sterling silver cable style chain
No longer available for purchase.
Instructions
step 1
Slide one bead cap, one teardrop and one bead cap on to the headpin. With a simple wire twist attach the teardrop to a piece of chain. Repeat for the second earring.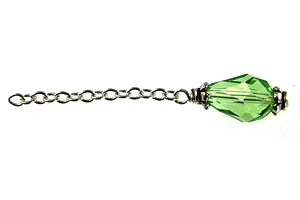 step 2
Using a simple wire twist attach six 4mm bicone beads randomly to the chain above the teardrop. Repeat for the second earring.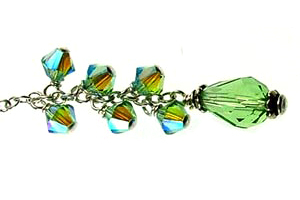 step 3
Open the shepherd hook loop to the side, slip the earring on and close the loop. Repeat for the second earring.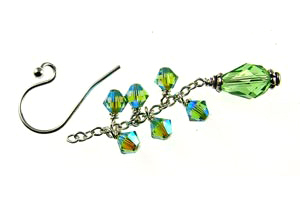 Materials List
| | |
| --- | --- |
| | 500-5377 sterling silver 1.5 inch thin, 24g headpin silver |
| | 500-6419 sterling silver shepherd hook with ball earwire silver |
| | 53284PEAB2X Swarovski Crystal Beads 4mm bicone 5328 peridot ab 2X (light green) transparent double iridescent |
| | 876-S sterling silver round link cable Chain 1.8mm |
| | 94-5596-12 lead free pewter 4mm scalloped bead cap antique silver |
Recommended Tools
| | |
| --- | --- |
| | T009 economy round nose plier 4.5 inch black |
| | T010 chain nose plier 4.5 inch black |