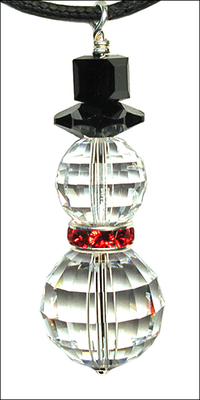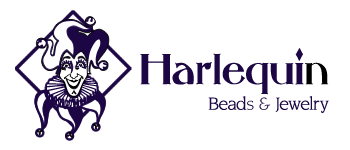 Crystal Disco Light Siam Snowman Necklace
by Michele Rose
This snowman glimmers with winter spirit, thanks to the ultra-sparkle of Swarovski crystal chessboard beads and light Siam red rhinestone rondell. We give our snowman a jet black top hat constructed out of Swarovski daisy and cube beads. With this Christmas jewelry kit, you can make a finished pendant necklace that measures up to 28 inches. Frosty will melt away, but this simple necklace will be around for years to come.
1 12mm Swarovski crystal chessboard bead
1 16mm Swarovski crystal chessboard bead
1 10mm Swarovski crystal jet black daisy bead
1 6mm Swarovski crystal jet black cube bead
1 8mm Swarovski crystal light Siam rhinestone rondell
2.5 inch piece of 24 gauge round German Craft Wire in silver
30 inches of black Rat Tail satin cord
No longer available for purchase.
Instructions
step 1
Bend about 1/8th inch of your wire into a tight U at one end to form the bottom of your snowman pendant. Slide the 16mm chessboard bead, 8mm rhinestone rondell bead, 12mm chessboard bead, 8mm black daisy bead and the 6mm black cube bead on to the wire.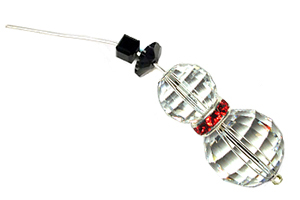 step 2
With a simple wire twist, create a closed loop at the top of your snowman.
Watch our wire twisted loop video for a how-to demonstration by our beading expert.
Slide the snowman on to the cord, tie a knot and it's ready to wear.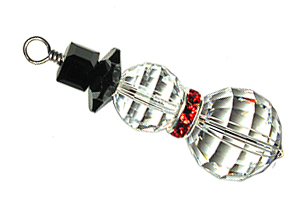 Materials List
| | |
| --- | --- |
| | 56016JT Swarovski Crystal Beads 6mm cube (5601) jet (black) opaque |
| | BWG05S German Craft Wire 24 gauge round silver |
| | RTBK1 2mm round black Rat Tail Satin Cord |
Recommended Tools
| | |
| --- | --- |
| | T009 economy round nose plier 4.5 inch black |
| | T010 chain nose plier 4.5 inch black |