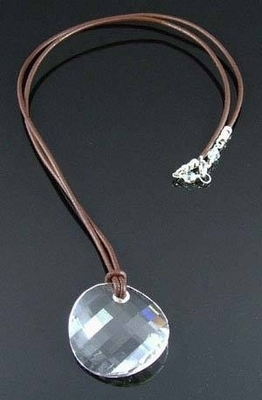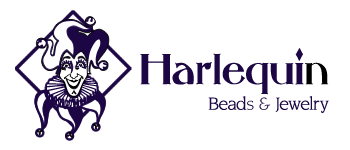 Circle of Bling Swarovski Crystal Pendant
by Michele Rose
The focal piece for our Circle of Bling Necklace kit is the amazing Swarovski Crystal twist pendant. Because the twist pendant is so spectacular on itís own our designers thought the best way to feature this crystal in a necklace was to have it be the necklace. A leather cord, cord ends and a clasp make this kit simple to make but stunning to wear.
1 Swarovski 28mm crystal twist pendant
2 Swarovski 4mm crystal ab round beads
2 Sterling silver cord ends
1 Sterling silver 6mm springring clasp
6 inches of 24 gauge half hard sterling silver wire
20 inches of 1.5mm brown leather thong
No longer available for purchase.
Instructions
step 1
Fold the piece of leather in half and slide it through the twist pendant. Slip the two ends through the loop and pull tight. Trim leather ends to the desired length.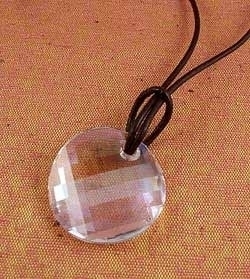 step 2
Place the cord end on one end of the leather. Crimp the center of the cord end. Repeat for the second end.
Watch our
cord end video
for a how-to demonstration by our beading expert.

step 3
Attach the clasp to the cord end using the sterling silver 24GHH wire and the one 4mm crystal.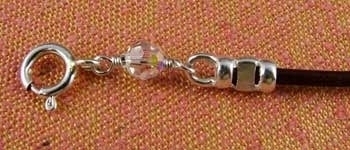 step 4
With a simple wire twist using the 24GHH wire and a 4mm crystal make a jumpring on the other side of the chain to clasp into. Make the loop about 6mm around.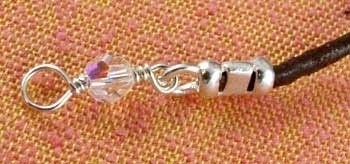 Materials List
| | |
| --- | --- |
| | 500-2360-CL sterling silver 6mm springring with soldered ring clasp silver |
| | LTBR1.5 1.5mm round leather thong (Greece) brown Leather Cord |
| | SS24GHH Sterling Silver Wire 24 gauge round |
Recommended Tools
| | |
| --- | --- |
| | PL611 super fine side cutter 4.5 inch |
| | T009 economy round nose plier 4.5 inch black |
| | T010 chain nose plier 4.5 inch black |