Links
---

Harold Williams Cooney's
American Trade Bead Studio
showcases the collection of this amazing glass artist. His objective is to design and assemble the finest single-source permanent collection of glass beads in the history of man. He divides glass beadmaking into fifty individual studies, and by keeping a small percentage of that work over a thirty year period, he will build a monument to the craft.
---

The leading on-line collectible bead discussion forum used by collectors all over the world.The network website serves as an educational tool for the purpose of reporting information and research related to bead collecting.
Bead Collector Network
invites all comments related to bead collecting.
---

BeadforLife
creates sustainable opportunities for women to lift their families out of extreme poverty by connecting people worldwide in a circle of exchange that enriches everyone.
---

The mission of BEADS for Education is to improve the status of women in Kenya through girls' education and women's business development. Established in 1993, most of the girls BEADS has sponsored are Maasai and the first in their families to complete elementary school.
---

Nome May is an artist who was born in Sydney, Australia, lived in England and Australia and now resides in Eugene, Oregon. First introduced to seed beads at the age of ten, her
Blessed Bead
embroidery in miniscule beads is her finest work.
---

Herb Stout of
Cascadia Gallery
is a self-taught local bead artist specializing in the peyote stitch. During Herb's stint in the military, he suffered a severe head injury. Herb uses woodworking and peyote beadwork as therapy to assist him in his process to find sanity in an all too hectic world.
---

A number of Harlequin staff and customers have booths at the
Eugene Saturday Market
. Every Saturday, between April and Thanksgiving, approximately 150 vendors display their handmade or home-grown products in downtown Eugene, Oregon.
---

JoAnne Brooks is a gifted jewelry artist and polio survivor. Her remarkable story is an inspiration - as are her beautiful beaded creations. Her beading technique involves using her hands and feet.
---

Founded in 1976,
Lane Arts Council
works alongside partners and local and state governments to link local artists to their community and the community to the arts. Artists at Harlequin are occasionally featured on the Lane Arts Council's First Friday ArtWalk, which is a free monthly guided tour of the visual arts in downtown Eugene.
---

Marcus Amerman
is an enrolled member of the Choctaw Nation of Oklahoma. He grew up in the Pacific Northwest and now lives in Santa Fe, NM. He credits the Plateau region and its wealth of talented bead artists with introducing him to the "traditional" art form of beadwork. He has created a new genre of bead artistry to create realistic, pictorial images.
---

Joanne Chase of
Mazama Mosaic
is inspired and excited by green building - and her mosaic fits those principles perfectly. We're lucky to admire her art everyday on
Harlequin's storefront
- a spectacular 20' x 16' mosaic of lilies, unglazed porcelain, gold and glass.
---

Many of Harlequin's beading community participate in the Oregon Country Fair, an annual three-day festival offering the finest in entertainment, hand-made crafts, delectable food and information sharing. The Fair takes place in Veneta, Oregon, on the Friday, Saturday and Sunday following 4th of July.
---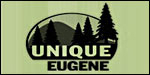 Harlequin Beads is a proud member of
Unique Eugene
, a group of local business owners who supports local community groups and helps create a vibrant local shopping experience.
---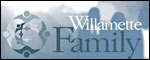 Harlequin Beads owner Stacy Bierma serves on the board of directors for
Willamette Family
, a center that provides a warm and nurturing environment for individuals and families seeking substance abuse and/or mental health treatment.
---