Classes and Events
Our calendar shows our upcoming classes and events.
Events are Lavender
Classes are Lilac
Time: 11 AM - 5 PM
Location: Harlequin Beads 2833 Willamette St. Eugene, OR 97405
Oregon Sunstone Trunk Show October 16th! The Dust Devil Mine trunk show features an amazing selection of authentic Oregon sunstone beads, finished jewelry and loose faceted and rough sunstones. Patsy will be here with tons of handmade sunstone beads, cabochons and specimens with tons of color. She will be here representing the mine to help you pick the sunstone beads or stones that will complete your current or future projects. Unique in the entire world, sunstones are the Oregon state gem. This spectacular gemstone is only found in south-central Oregon and mined by US veterans.These stones have a natural beauty and come in several colors, ranging from champagne, Schiller (copper color through the stone), red, green and watermelon. This feldspar crystal is heat stable and can be set in place with silver precious metal clay.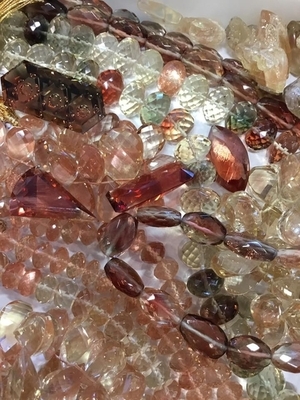 Time: 11 AM - 5 PM
Location: Harlequin Beads & Jewelry 2833 Willamette St.
Crystal Points, gem specimens, faceted stones and cabochons!
Elfingoyle Gems are traveling gemstone sellers. They have an assortment of stones ranging from cabochons of Tiger eye, Moonstone, Garnet and many others for $1-2 as well as nice Fire Agates and Opals and other high end gems. Elfingoyle Gems also has faceted stones from a few dollars each up to top quality Tourmaline and Oregon Sunstone. In addition they have Tourmaline, Amethyst, Topaz and other crystals and specimens. Elfingoyle Gems is happy to sell to both jewelers and collectors at the same great prices!