Classes and Events
Our calendar shows our upcoming classes and events.
Events are Lavender
Classes are Lilac
Trunk Show - Sterling Silver, Bronze, and Copper Findings
Friday and Saturday July 9th & 10th from 11 to 5.
These beautiful original designs in sterling silver and other metals are direct from Pegasus Imports. Come see unusual clasps, cones, bead caps, beads, earwires, pendants, charms and more.
Pegasus designs hundreds of great findings and searches the globe to bring you a vast collection of new and unusual jewelry elements from many countries. They specialize in high quality jewelry components in great designs, all cast in sterling for beauty and durability.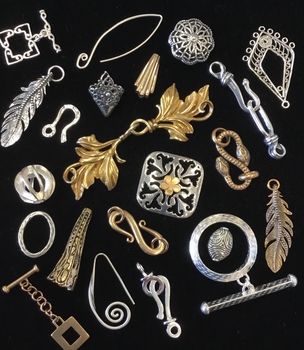 Designer Lapidary Trunk Show
Saturday July 17th
David V. Horste of DVHdesigns is a custom lapidary and great source for designer focal beads and cabochons. He works in semiprecious stone, organic gemstones, and up-cycled materials such as fordite. David is an internationally recognized lapidary artist who started cutting stones in 1976 at the age of 10. He has been a full-time lapidary artist since 1992, with a specialty in larger, one-of-a-kind centerpiece and focal beads along with unique, free-form cabochons. He is also an expert in semiprecious stone identification and a great source of information on the history and lore of stones. Bead societies up and down the West Coast have had him as a regular guest lecturer on many topics for many years.
One of David's specialties is FORDITE, which is the name for the built up car paint overspray from automobile factories. Beads, cabochons, and earrings in fordite from the Ford, Corvette, Jeep, and Kenworth truck facilities will be available in a large and diverse selection. Almost every year David goes to the big trade shows in Tucson to get new and unusual cutting roughs. In recent years he scored some genuine, natural, untreated PERSIAN TURQUOISE that was brought out of IRAN in the 1970's. David will have a good stock of this. He also recently got a lot of genuine jet from Whitby, England which was historically used in mourning jewelry. To see everything else you'll just have to come to the trunk show! See Less